Top Tips to Ensure a Perfect Valentine-Making Party For Kids
Purpose of A Valentine Making Party for Kids
The main purpose of a Valentine-Making Party for kids is to encourage them to be creative and express their ideas through Valentine-themed activities. This can also be a time for them to build their social skills as they share and communicate with one another. It is also a great time to have some fun and make a lot of crafts and memories that are sure to last a long time.
Suggested Age RangeA Valentine-Making Party for kids can range in age from 3 years all the way to 12. Younger children can create basic paper valentines while older children can get more creative such as creating 3D paper hearts and using watercolours to create intricate designs.
No matter what the age group everyone will love the opportunity to make something special. Additionally this a great way to teach them how to make thoughtful meaningful gifts for their friends and family.
All in all a Valentine-making Party for Kids is a great way to bring a group together and celebrate the true spirit of Valentine's Day. With a little bit of creativity and planning you can create a fun-filled day that will be remembered fondly for years to come.
A Valentine-Making Party for Kids
What can make your child's Valentine's Day even better? How about a Valentine-making party! Host a party filled with a variety of crafts that the children can do to make their own Valentine's Day cards and decorations. With this they can show off their creativity while also having fun with their friends and expressing their love and appreciation.
Preparations
This the most important step. You should plan ahead of time so that you can delegate tasks and tasks to make sure everything runs smoothly during your event. Look for the best venue assemble materials and check safety protocols.
Choosing a Venue and Supplies
Choose a place with enough space for children to move around freely and to be comfortable. Make sure it has enough room to accommodate a lot of people your materials and food if you plan on serving snacks. Then collect crafts supplies that can help create your decorations such as cardboard hearts paint tape and glue.
Decorations
Adorn the venue with Valentine's Day decorations and of course some cardboard hearts. Use balloons streamers and bouquets of flowers for a festive treat. Don't forget to add on to the decor with heart-themed banners and signs.
With these three steps you can make sure your Valentine's party is a success. All that's left is to have your children try out all the crafts they have in store and enjoy the celebration!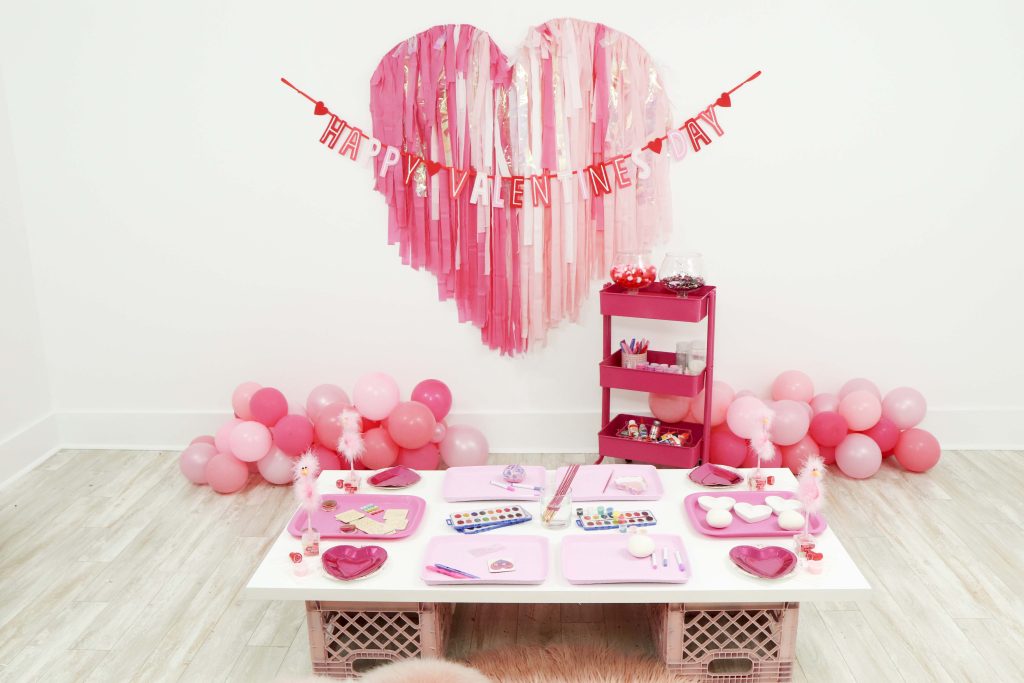 A Valentine-Making Party for Kids
Valentine's day is a great opportunity to show your loves one the appreciation and love they deserve. Why not take it a step further and have a Valentine's making party?
Making Valentine's day cards and treats is a great way to get kids in the holiday spirit and bring everyone in the house together. The party can be organized easily by crafting items beforehand setting up stations for each activity.
Candy-Making Station
The candy-making station can be eagerly anticipated by young and older attendees alike. Using different kinds of chopped-up candy and baked goods such as graham crackers attendees can make their own unique combinations of treats.
Handmade Card or Craft Station
For those who appreciate the wonders of art set up a crafting station with construction paper and markers. Attendees can use these to make imaginative and creative cards for whomever they desire.
Balloon Craft StationFinally a balloon craft station can be a great way to make something to take home. This activity is a fun way to teach kids about recycling as old paper rolls can be repurposed to make easy and colorful hot-air-balloon crafts.
Organizing a Valentine-making party for your kids doesn't have to be time-consuming or hard. With a few crafty skills and a little bit of help from your kids this Valentines day can be a special memorable day for everyone in the house.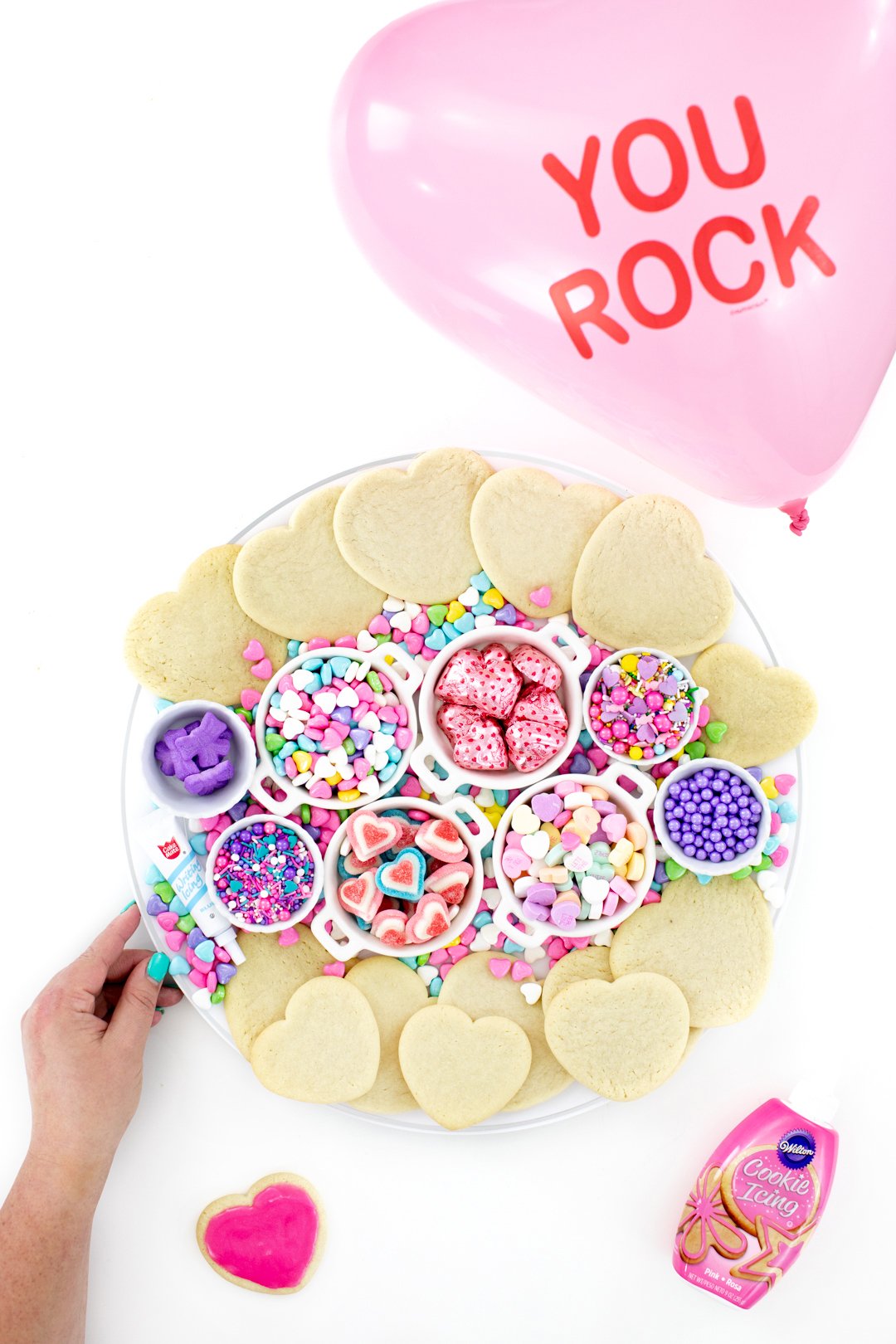 A Valentine's Day Party for Kids
Valentine's Day is a great chance to get together with the family. To make it even more special consider throwing a Valentine-making party for your kids.
If you're stuck for ideas on how to throw a Valentine-themed party for the kiddos here are some fun suggestions!
Snacks
Set up a variety of fun and delicious snacks that everyone can enjoy. You can offer heart-shaped cookies cupcakes and pastries. Don't forget some healthy alternatives such as fruit platters or veggie dip.
Cookie DecoratingOne of the most popular activities for Valentine's Day is cookie decorating. This a fun activity for the whole family to enjoy. All you need for the decorating station is baked sugar cookies frosting sprinkles and other decorator candies.
You can also set up a cupcake decorating station. This an activity your kids will love as it provides plenty of creative freedom.
Heart-Shaped PizzaIf you want to have a heartier snack for your family why not try making mini heart-shaped pizzas? They're easy to make with just four ingredients: pizza dough pizza sauce cheese and whatever topping you like. Set up a make-your-own-pizza station and let your kids get creative!
For an even easier option you can order pre-made heart-shaped pizzas and let the kids top them with their favorite toppings.
These activities make for a great family activity perfect for the Valentine's Day season. Don't forget to have plenty of beverages and dessert too! With these creative ideas you'll be sure to throw an unforgettable Valentine's Day party for your kids.
A Valentine-Making Party for Kids
Valentine's Day is a special moment for both adults and children; there can be no better way to express the spirit of love than to host a Valentine-Making Party for kids.
Valentine-Making Party is an event that brings family and friends to celebrate the festival of love together. It involves fun-filled activities and games that will keep the little ones engaged and entertained. With a few tools and supplies you can create a memorable and budget-friendly Valentine-Making Party that the kids will surely love.
Games
Set up fun activities that the children will truly enjoy such as Pin the Heart Sweetheart Scavenger Hunt and Valentine's Self-Portrait activity. You can also teach the kids how to make their own paper Valentine cards and you can even provide some red items for them to use as decorations.
Pin The Heart
Just like the classic "Pin the Tail on the Donkey" game the kids can have fun with Pin the Heart. All you need to do is to cut out a paper heart make several copies and add blindfolds. Have the kids spin a circle and then let them take turns in trying to pin the heart on the "Love Bug". Make sure to include rewards like candy and toy hearts to make the game even more exciting.
Sweetheart Scavenger Hunt
Create a scavenger hunt with sweetheart-themed items such as red glitter a stuffed animal a rose and others. Give out checklists and have the kids go around the house to find the items. You can also create a virtual scavenger hunt or play a Sweetheart Relay Race between family and friends who aren't with you on the special day.
These are just some of the games that you can include in your Valentine-Making Party. With your creativity and the use of some craft items you can create a memorable party that will make the kids feel loved and excited about Valentine's Day!
Valentine-Making Party for Kids
Valentine's Day gives families a unique opportunity to come together and create special memories. Having a Valentine's Day-making party for the younger set is one of the best ways to have some family fun and make memories that last.
Organizing a Valentine's Day party for kids is quite an elaborate process but with a bit of effort you can make the day special.
Tips for Organizing a Successful Valentine Making Party
1.Invitations: Begin with inviting all the right people. It helps to create unique invites – that indicate theme and date of the party – that will send your guests into a state of anticipation.
2.Activities: Like all other parties you need to have activities to entertain and engage the guests. In this case put your Valentine's Day creativity to good use.
3.Food and Drinks: The centerpiece of any party is the food and drinks. This the part that gets everyone excited. Choose a menu that stands out and that everyone can enjoy.
4.Gifts and Cards: The kids want to receive something at the end of the day. You can either give a gift bag or better yet have all the kids make cards for each other.
Conclusion
Creating a successful Valentine's Day party for the kids doesn't have to be too complicated.
Just make sure to stay organized by starting early and plan out all the little details.
With a bit of effort your Valentine's Day celebration will be a memorable one.